November was basically a normal transition month moving us closer into the dry season. At the Palmira Arriba station we logged 8.7 inches of rain. By the end of November we had a total of 140.4 inches of rain for the 2017 year.
Thanks again to all those who contribute their monthly rain data. Here are the totals for November of 2017 for the various District of Boquete areas.
Rainfall for November 2017

Area

Contributors

November

El Santuario

Terry Zach

9.00

118.45

Jaramillo Arriba

Steve Sarner

10.08

171.74

Jaramillo Abajo

Don Berkowitz

12.20

unknown

Jaramillo Abajo

Bobi McGann

13.61

unknown

Brisas  Boquetenas

Austin Perry

14.90

178.90

Los Molinos

Sela Burkholder

19.86

unknown

Lucero (Cielo Paraiso)

Michael Mullin

25.75

267.45

Palmira Abajo

Betty Gray

12.17

162.02

Palmira Arriba

Lloyd Cripe

n/a = not currently available but will be posted when available
We have 2 new contributors to our rain data project, Don Berkowitz and Bobi McGann. Both live in the Jaramillo Abajo area. Thanks for joining with us to share the rain data for the District.
Looking at the monthly rainfall graph for the Palmira Station from 2007 to the present we see that November's rain averages about 12.4 inches each year. This months total of 8.37 inches is below average but we have had lower rainfalls in the month of November (ranges 2.72 to 24.11 inches). It also looks as if our annual total will end up somewhat below normal but not extremely low. We will shortly know at the end of this month.
If any of you want to start collecting rain data and sharing it with us, here is a link to a good quality manual rain gauge. It needs to be placed in an open area on a post with minimal obstacles nearby (trees and buildings). You have to check it regularly and write down the data on a log. It isn't complicated but it takes a dedicated diligence. Think about becoming a contributor.
The latest ENSO Cycle Report is now saying that "La Niña conditions are predicted to continue (~65% - 75% chance) at least through the Northern Hemisphere winter 2017 - 18."
If you want to learn more about El Niño, this is a good website to understand the phenomenon and its effects on our climate and weather.
The IRI (International Research Institute for Climate and Society) (select South America from the Region menu) is reporting the following precipitation predictions for December-January-February of 2018. Note a prediction of above normal precipitation for our area (green) and generally mixed for South America.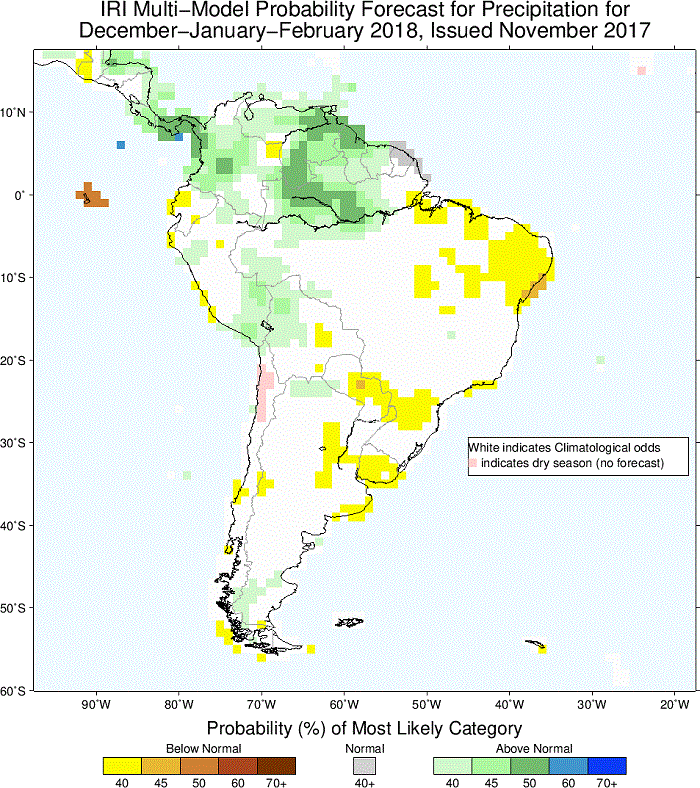 ETESA's, hydrology and meteorology section is predicting that we will generally have a tendency toward normal levels of precipitation in our part of Chiriqui for the month of December 2017. You can read their report and check out the details for November 2017 in the documents section at this link.
We are now clearly entering the dry season. We may get some rain in December but usually very little. The NE Trade Winds will be kicking up so we will have lots of winds as usual for the months of December, January, February and March. Yes it gets windy in Paradise.
I like to follow the winds of the world and more specifically those near us at the EarthWind Map. If you haven't seen this website I suggest you check it out.
We are now full-bore into the coffee harvest. Thankfully, we are having a more productive year than we had last year.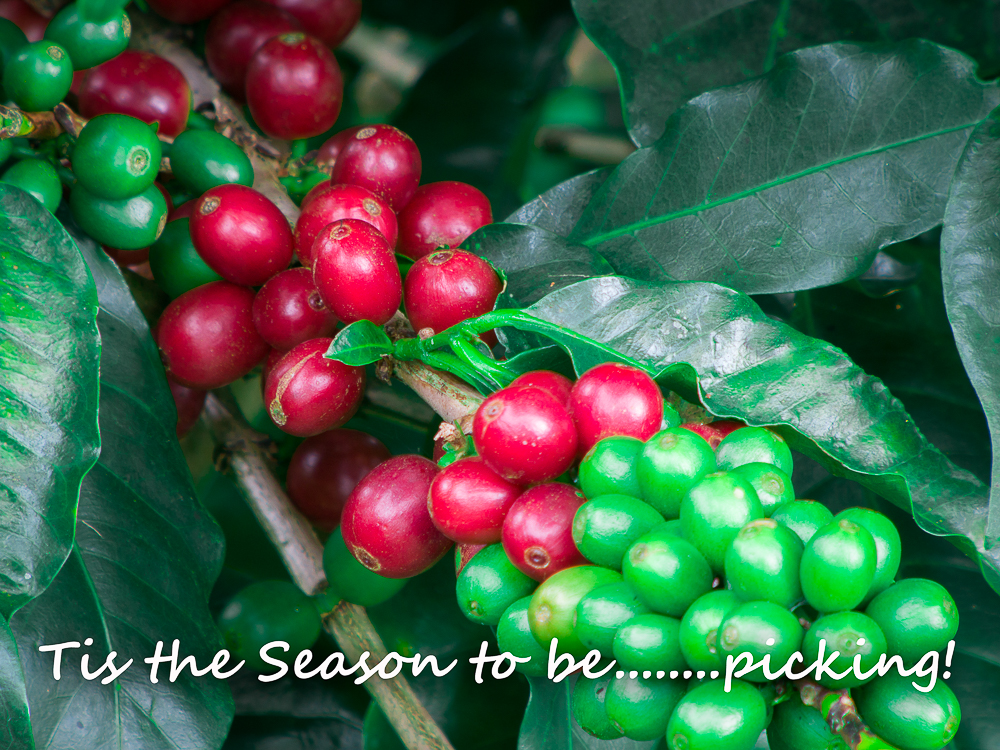 Fortunately you won't need the umbrellas all that much now that we are into December. If you decide to use one for sun protection make sure you have one of those wind proof types. Otherwise you will have an inverted umbrella and probably need to buy a new one.
Best of the Season.
Lloyd Cripe