October disappointed me and destroyed my prediction of October being the rainiest month of the rainy season. We received much less rain than I expected. At the Palmira Arriba station we logged only 15.27 inches of rain. By the end of October we had a total of 132.01 inches of rain for the 2017 year.
Thanks again to all those who contribute their monthly rain data. Here are the totals for October of 2017 for the various District of Boquete areas.
Rainfall for October 2017

Area

Contributors

October

El Santuario

Terry Zach

9.65

109.45

Jaramillo Arriba

Steve Sarner

13.91

161.66

Brisas  Boquetenas

Austin Perry

14.90

178.90

Los Molinos

Sela Burkholder

23.29

unknown

Lucero (Cielo Paraiso)

Michael Mullin

22.26

241.70

Palmira Abajo

Betty Gray

13.94

149.85

Palmira Arriba

Lloyd Cripe

n/a = not currently available but will be posted when available
We discovered that Fred Donelson has a problem with his weather station and the rain gauge has been over reporting the amount of rain for Los Molinos. I have removed his data for Los Molinos this month. Sela Burkholder is measuring the rain manually in Los Molinos since she recently moved there and I am reporting it. If and when Fred gets the problem figured out with his station and things are accurate again we can return to his reports. He has been a faithful reporter and we look forward to his future reports once the problem is figured out and solved.
Looking at the monthly rainfall graph for the Palmira Station from 2007 to the present we see that October's rain averages about 29 inches each year. This months total of 15.27 inches is the lowest we have ever recorded. Last year October 2016 was also low at 16.35 inches but this year is even less. Looking at the results of all the different areas in the district, most of the areas had a low rainfall for October. Steve Sarner has been collecting weather data at Jaramillo for many years and he reports this October rain total was the lowest he has recorded. Why exactly is unknown, but it is potentially related to climate change and spells trouble for us coffee growers.
If any of you want to start collecting rain data and sharing it with us, here is a link to a good quality manual rain gauge. It needs to be placed in an open area on a post with minimal obstacles nearby (trees and buildings). You have to check it regularly and write down the data on a log. It isn't complicated but it takes dedicated diligence. Think about becoming a contributor.
The latest ENSO Cycle Report is now saying that "ENSO-Neutral conditions are present. Equatorial sea surface temperatures (SSTs) are near-to-below average across the central and eastern Pacific Ocean. La Niña conditions are favored (~55%-65%) during the Northern Hemisphere fall and winter 2017-18."
The IRI (International Research Institute for Climate and Society) (select South America from the Region menu) is reporting the following precipitation predictions for November-December-January of 2018. Note a prediction of above normal precipitation for our area (green) and generally mixed for South America.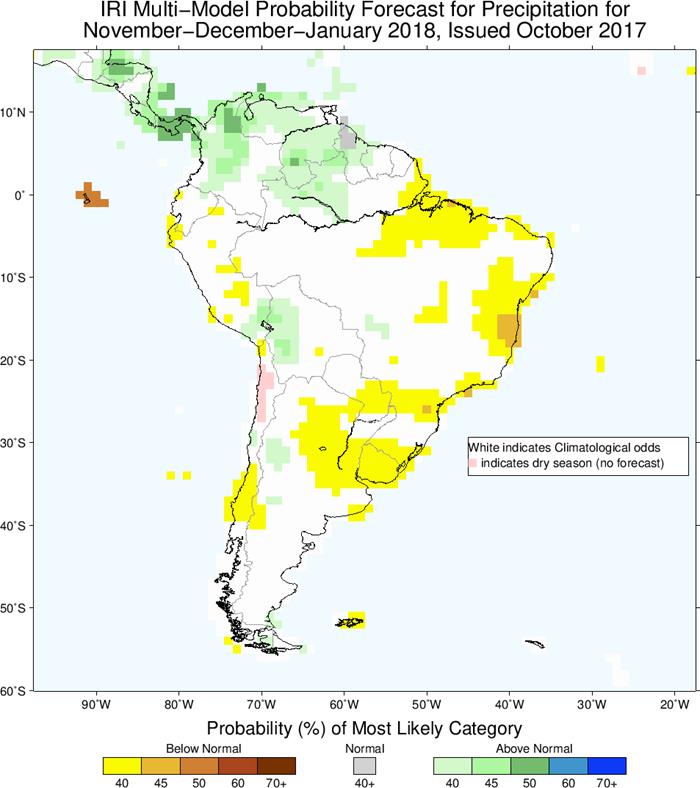 ETESA's, hydrology and meteorology section is predicting that we will generally have a tendency toward normal levels of precipitation in our part of Chiriqui for the month of November 2017. You can read their report and check out the details for November 2017 in the documents section at this link.
The CLIMATE SCIENCE SPECIAL REPORT for 2017 was issued last week. "The Climate Science Special Report (CSSR) is designed to be an authoritative assessment of the science of climate change, with a focus on the United States, to serve as the foundation for efforts to assess climate-related risks and inform decision-making about responses." If you want to read the latest science based information on climate change and the effects upon the United States, read this report. At least the Executive Summary section. For me this is one of the most authoritative documents regarding the scientific study of current climate change available. Before spouting off about your personal ideas on climate change, read and study this document which is prepared by the leading scientists in the field of atmospheric science. Then perhaps we can talk and understand each other.
Well I was wrong. Last month I stated, "As I have said many times, October is usually our rainiest month during the rainy season. You can expect a lot of wet dreary cloudy days and plenty of rain..." There is an old saying that says, "He who lives by the Crystal Ball, eventually eats glass." Well I am eating glass. We ended up having a lot of sunny days and the lowest rainfall I have ever recorded at the Palmira Station in the month of October for the last 10+ years. I think I will give up crystal gazing, put my umbrella away and take some bird photos. The birds are coming into full plumage and starting their nesting routines earlier this year as the weather is moving into summer early. Here is a photo of the Blue Gray Tanager, a common bird in the Boquete area taken a few days ago on our farm. A beautiful creature. I never get tired of them. Maybe less rain has its advantages?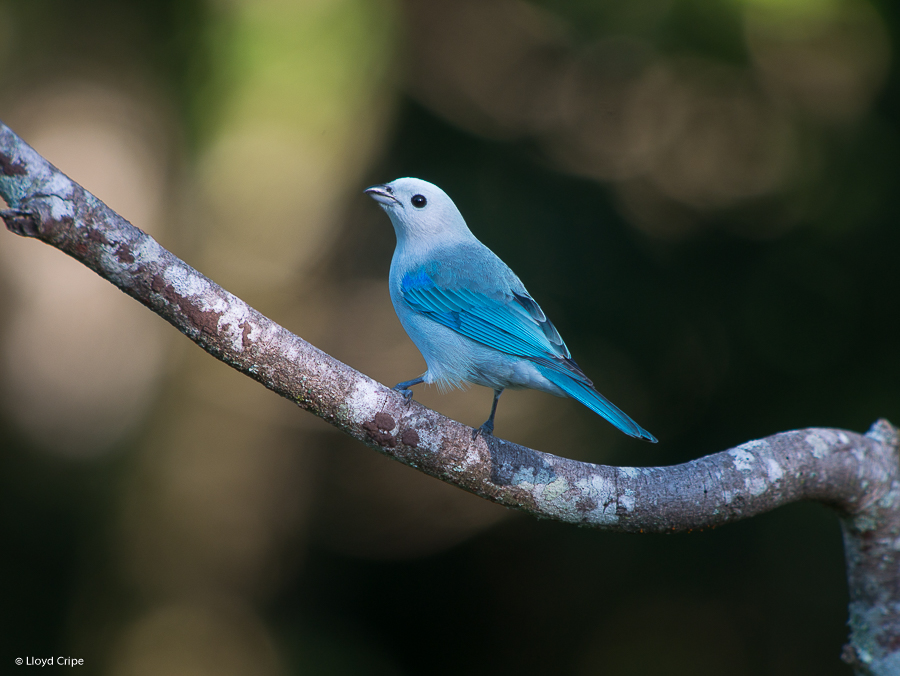 Lloyd Cripe