September did not disappoint. We received more rain. September at the Palmira Arriba station logged 23.34 inches of rain. By the end of September we logged a total of 116.74 inches of rain for the year 2017. Rain throughout the District of Boquete varied with 21.58 inches in El Santuario and 44.76 in Lucero.
Thanks again to all those who contribute their monthly rain data. Here are the totals for September of 2017 for the various District of Boquete areas.
Rainfall for September 2017

Area

Contributors

September

El Santuario

Terry Zach

21.58

99.80

Jaramillo Abajo

Sela Burkholder

33.47

174.84

Jaramillo Arriba

Steve Sarner

32.02

147.75

Brisas  Boquetenas

Austin Perry

26.40

164.00

Los Molinos

Fred Donelson

28.93

240.87

Lucero (Cielo Paraiso)

Michael Mullin

44.76

219.44

Palmira Abajo

Betty Gray

28.99

135.91

Palmira Arriba

Lloyd Cripe

n/a = not currently available but will be posted when available
Sela Burkholder turned in her last measure for the Jaramillo Abajo area this month. We will miss getting her rain data for that area. She however promises to give us data for her new location in Los Molinos. Thanks Sela for all the measures you took in Jaramillo Arriba and for sharing the results with us each month for several years. We look for to your reports from farther down the road.
If any of you want to start collecting rain data, here is a link to a good quality manual rain gauge. It needs to be place in an open area on a post with minimal obstacles close by (trees). You have to check it regularly and write down the data on a log. It isn't complicated but it takes careful diligence. Think about becoming a contributor.
Looking at the monthly rainfall graph for the Palmira Station from 2007 to the present we see that September's rain averages about 22 inches and ranges between 9.47 to 46.00 inches each year. So there is a lot of variability. We had a solid average year here in Palmira Arriba this last month with 23.34 inches.
The latest ENSO Cycle Report is now saying that "ENSO-Neutral conditions are present. Equatorial sea surface temperatures (SSTs) are near-to-below average across the central and eastern Pacific Ocean. There is an increasing chance (~55%-60%) of La Niña during the Northern Hemisphere fall and winter 2017-18."
The IRI (International Research Institute for Climate and Society) (select South America from the Region menu) is reporting the following precipitation predictions for October-November-December of 2017. Note a prediction of above normal precipitation for our area (green) and generally mixed for South America.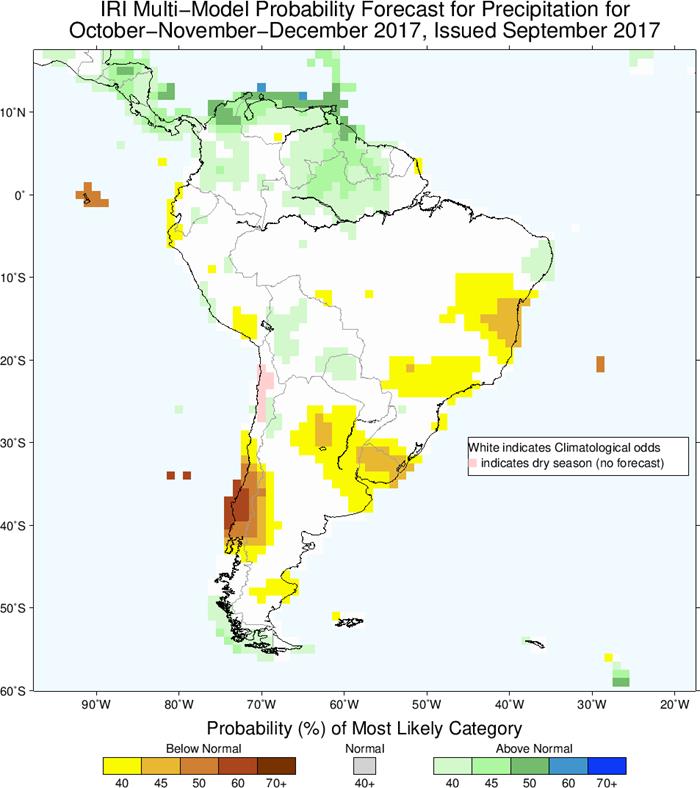 ETESA's, hydrology and meteorology section is predicting that we will generally have a tendency toward normal levels of precipitation in our part of Chiriqui for the month of October 2017. You can read their report and check out the details for October 2017 in the documents section at this link.
Hurricane Maria raised cane (or should I say lowered cane?) in her journey through the Caribbean and into Florida last month. Several of the Islands were devastated to include Puerto Rico. Can you imagine what it would be like to have something like Maria come through here? What a mess. Fortunately, Panama is not in the Hurricane pathways - yet. Unfortunately, some of you that have other houses in Florida felt the brunt of Maria. Good luck with restoration and future storm paths.
As I write this update, Tropical Storm Nate is now Hurricane Nate and is headed north to make landfall Saturday evening along Louisiana on to weatern Florida. Here is a good current article about Nate by Bob Henson and Jeff Masters. These storms are causing a lots of heartaches and costing lots of dollars. Many people have a lot of work to do and money to spend to recover from all of this.
As I have said many times, October is usually our rainiest month during the rainy season. You can expect a lot of wet dreary cloudy days and plenty of rain. Just get the umbrellas out and try singing! Or at least listen to some upbeat music. You can't change the weather with your mood. Also try to remember why this place has such natural beauty, incredible rainbows and is called, "The Rainforest."
Lloyd Cripe