July here at the Palmira Arriba station logged 9.58 inches of rain. By the end of July we logged a total of 80.31 inches of rain for the year 2017.
Thanks again to all those who contribute their monthly rain data. Here are the totals for July of 2017 for the various District of Boquete areas.
Rainfall for July 2017

Area

Contributors

July

El Santuario

Terry Zach

6.65

66.92

Jaramillo Abajo

Sela Burkholder

12.69

123.30

Jaramillo Arriba

Steve Sarner

9.37

101.19

Brisas  Boquetenas

Austin Perry

14.40

115.20

Los Molinos

Fred Donelson

21.76

154.76

Los Naranjos

Craig Bennett

n/a

n/a

Lucero (Cielo Paraiso)

Michael Mullin

19.14

145.73

Palmira Abajo

Betty Gray

9.15

91.98

Palmira Arriba

Lloyd Cripe

9.58

80.31

n/a = not currently available but will be posted when available
There is as always, considerable variability between the district areas with a low of 6.65 inches in El Santuario and a high of 21.76 inches at Los Molinos.
Looking at the monthly rainfall graph for the Palmira Station from 2007 to the present we see that July is variable but averages 12.88 inches of rain with a range of 2.79 to 31.02 inches. This years July rainfall is a bit below normal but not the lowest amount we have had over the years. I generally think of July as one of lowest rainfall months during the rainy season. We seemed to have a lot of overcast skies but only 9 days with some rain.
The latest ENSO Cycle Report is saying that "ENSO-Neutral conditions are present. Equatorial sea surface temperatures (SSTs) are near-to-above average across the central and east-central Pacific Ocean. ENSO-Neutral is favored (50 to ~55% chance) into the Northern Hemisphere winter 2017-18."
The IRI (International Research Institute for Climate and Society) (select South America from the Region menu) is reporting the following precipitation predictions for August-September-October of 2017. Note a prediction of lower than normal precipitation for our area (yellow) and generally lower for South America.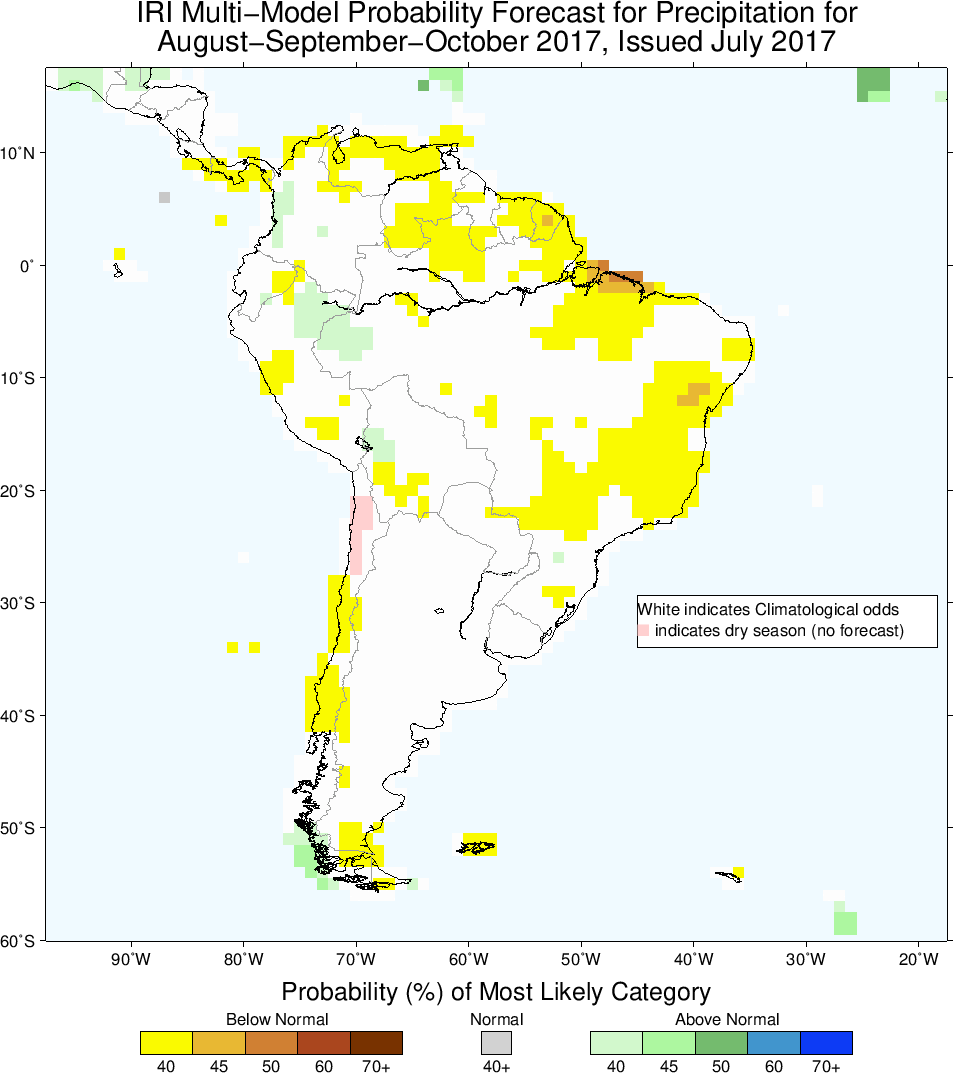 E
ETESA's, hydrology and meteorology section is predicting that we will generally have normal levels of precipitation in Chiriqui and most parts of Panama for the month of August 2017. You can read their report and check out the details for July 2017 in the documents section at this link.
The big news for me is that I got the new radio into the weather station without falling off the 20 foot ladder and breaking my neck! Hopefully this makes my wife happy although she appears somewhat ambivalent about the whole deal. Regardless, the station is working very well again. Again, I thank the Tech Support at WeatherHawk for their excellent support and helping me through this maintenance. Hopefully I will get 10+ more years out of this radio and survive to see it.
Last Saturday, we had a visitor that we hadn't seen for a while. A Bat Falcon perched on El Seco (Old dry tree) that is about 300 feet from the Kitchen window. It seemed to be enjoying the high perch and the sunny weather. I grabbed a few photos with my digiscope setup. You can take a look at one of the photos here.
The Bat Falcon is the smallest Falcon in Panama. It is only about 10 inches long and has a wing span of about 23 inches. Although small it is a good aggressive hunter and we have seen one capture and devour birds larger than itself (Band-tailed Pigeon).
Although we never know until it happens, based upon the data from past years, August is often higher in rainfall than July. I tend to see August, September and October as the rainiest months during the rainy season.
Your umbrellas will probably be lonely no longer. Get them oiled, limbered up and handy for the next several months. You will most probably need them.
Lloyd Cripe