March was generally a dry month for the Boquete area. Here at the Palmira Arriba station we only had 0.15 inches of rain.
Thanks again to all those who contribute their monthly rain data. Here are the totals for March of 2017 for the various District of Boquete areas.
Rainfall for March 2017

Area

Contributors

March

El Santuario

Terry Zach

2.88

8.44

Jaramillo Abajo

Sela Burkholder

0.77

6.05

Jaramillo Arriba

Steve Sarner

0.91

10.92

Brisas  Boquetenas

Austin Perry

1.50

6.90

Los Molinos

Fred Donelson

2.78

n/a

Los Naranjos

Craig Bennett

1.23

9.54

Lucero (Cielo Paraiso)

Michael Mullin

1.45

8.33

Palmira Abajo

Clyde Page

1.45

n/a

Palmira Abajo

Betty Gray

1.42

4.94

Palmira Arriba

Lloyd Cripe

0.15

5.89

n/a = not currently available but will be posted when available
There is some variability but generally we had a low rainfall month in the Boquete area which is typical for March.
Looking at the monthly rainfall graph from 2007 to the present we see that March averages 2.52 inches and there have been previous rainfalls of zero inches for the month (range of 0.0 to 5.83 inches).
April is a transition month from the dry season into the rainy season. We will no doubt see more rain in the month of April.
The latest ENSO Cycle Report is saying that "ENSO-neutral conditions are favored to continue through at least the Northern Hemisphere spring 2017, with increasing chances for El Niño development into the fall."
The IRI (International Research Institute for Climate and Society) (select South America from the Region menu) is reporting the following precipitation predictions for April-May-June of 2017. Note a lack of prediction for our area and most areas around us.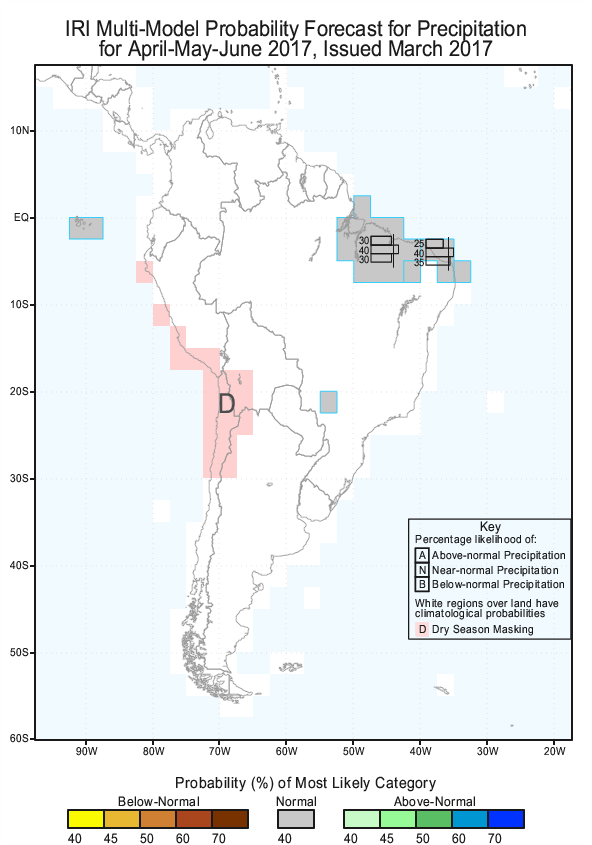 ETESA's, hydrology and meteorology section is predicting that we will have basically normal levels of precipitation in most areas of Chiriqui (David may have more than normal) for the month of April 2017. You can read their report and check out the details for April 2017 in the documents section at this link.
All is not well in Paradise. If you live in the area, you no doubt felt the earthquake on April 2 at 18:54 (6:54pm). At our place it was short-lived but felt quite strong and may have been the strongest we have had since moving here in 2006. USGS rated it as a 5.3 magnitude quake with the epicenter at 8.987°N 82.489°W. Here is their mapping of the location: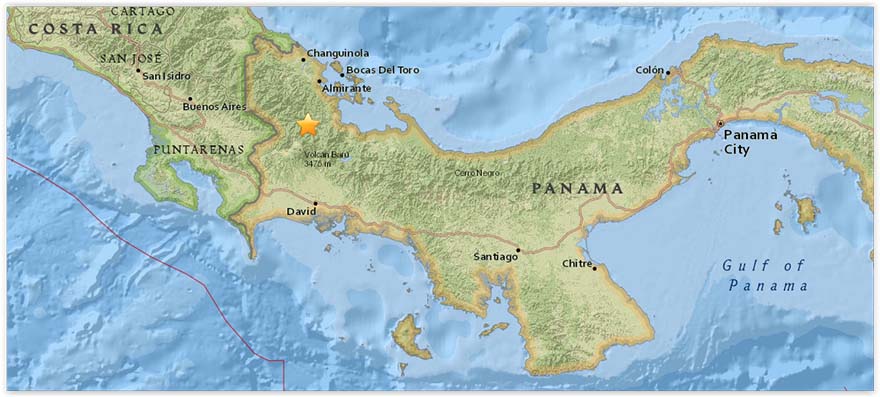 We had some figurines fall off a cabinet upstairs and broken into bits. No one got hurt. No structural damage to our house (Thanks to Antonio Bacil and his crew). Our heart rates eventually got back to normal.
We are a few days into April and experiencing some rain. I used my umbrella this morning while feeding the dogs and the birds. The coffee blossoms are opening. The earth is calm. All is good again in Paradise.
Lloyd Cripe