January and February brought the following rain in the Boquete area. Here at the Palmira Arriba station we had 2.09 inches of rain in January and 3.54 inches in February with a total for the year of 5.74.
Thanks again to all those who contribute their monthly rain data. Here are the totals for January and February of 2017 for the various District of Boquete areas.
Rainfall for January & February 2017

Area

Contributors

January

February

Total 2017

El Santuario

Terry Zach

3.68

1.88

5.56

Jaramillo Abajo

Sela Burkholder

1.66

3.62

5.28

Jaramillo Arriba

Steve Sarner

6.32

3.69

10.01

Brisas  Boquetenas

Austin Perry

.85

4.55

5.40

Los Molinos

Fred Donelson

n/a

n/a

n/a

Los Naranjos

Craig Bennett

6.29

2.02

8.31

Lucero (Cielo Paraiso)

Michael Mullin

0.9

5.98

6.88

Palmira Abajo

Clyde Page

0.38

n/a

n/a

Palmira Abajo

Betty Gray

0.69

2.83

3.52

Palmira Arriba

Lloyd Cripe

2.09

3.54

5.74

n/a = not currently available but will be posted when available
There is considerable variability but generally we received more rain than normal for the dry season.
Normally January and February are quite dry with only traces of rain. Looking at the monthly rainfall graph from 2007 to the present we see that January averages 0.32 inches and February averages 0.97 inches. Only in 2010 we had rains near what we have this year. This is an unusual dry season year.
Although I don't know exactly why, it is no doubt related to the changes in the weather up north with strong cold fronts and high pressures pushing into the Caribbean. Whether or not this means an earlier rainy season and more than normal rain throughout the wet season I don't really know.
The latest ENSO Cycle Report is saying that "ENSO-neutral conditions have returned and are favored to continue through at least the Northern Hemisphere spring 2017."
The IRI (International Research Institute for Climate and Society) (select South America from the Region menu) is reporting the following precipitation predictions for March-April-May of 2017. Note a lack of prediction for our area and normal precipitation probabilities for most areas around us.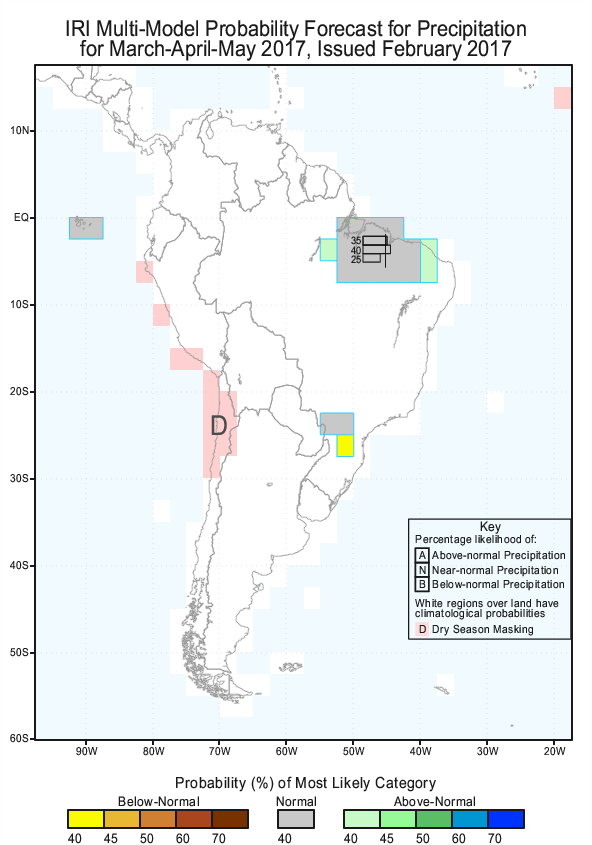 ETESA's, hydrology and meteorology section is predicting a strong probability that we will have somewhat lower precipitation in most areas of Chiriqui for the month of March 2017. You can read their report and check out the details for March 2017 in the documents section at this link.
Your guess is as good as mine as to what precipitation will evolve in March and April this year. Normally March and April are gradual transition months into the rainy season which becomes the full blown rainy season by May. This year's transition is uncertain.
In addition to the extra rain the winds have been kicking around. I am not sure they are any different than they have been in past years past but we have experienced some strong winds. Power outages are common this time of year as trees are frequently blown into the electrical lines.
I still think we are fortunate to be here experiencing the slightly confused weather of Paradise rather than the clearly chaotic weather up north. Let's hang on to our hats and keep the umbrellas handy. Remember whether the weather we can gather together and have some fun or at least cry in our beers.
Lloyd Cripe